Toenail Fungus Laser Treatment Specialist in Tustin, CA
In more than 80% of cases, the laser eliminates toenail fungus and encourages the formation of clean nails after just one session. The majority of individuals see improvement following their initial session with laser therapy, which is safe and efficient. If you believe you have toenail fungus and require treatment, look no further than Tustin Podiatry Clinic. Our board-certified podiatrist Dr. Charles Baik, DPM can create a treatment plan that is right for you. Please contact us today for more information or to schedule an appointment online. We are conveniently located at 17400 Irvine Blvd. Suite H, Tustin, CA.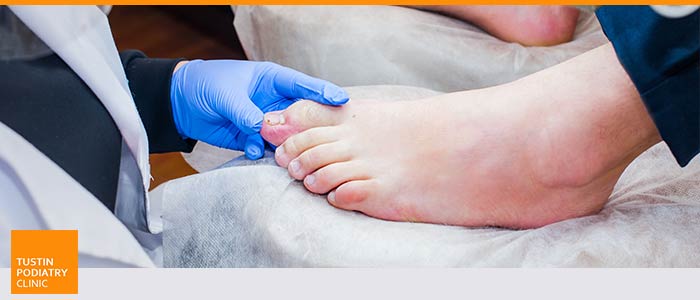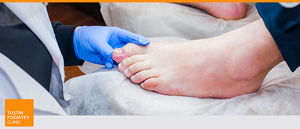 Table of Contents:
What doctor do I go to for toenail fungus?
What are the most effective initial treatments for toenail fungus at home?
When should I see a doctor for toenail fungus?

Toenail fungus is a common fungal infection affecting the feet. It can arise from a number of different causes, although it can be tricky to determine exactly how it was contracted. Oftentimes, toenail fungus is transmitted in a locker room, where it is warm and moist and many people walk around barefoot. These places are the perfect breeding ground for toenail fungus and other fungal infections, so be sure to wear flip-flops to avoid contracting them!
What doctor do I go to for toenail fungus?

Typically, dermatologists and podiatrists are the most experienced in treating toenail fungus. If the fungal infection has spread out of control and is causing discomfort and an unpleasant odor, make an appointment with your foot and ankle specialist today.
What are the most effective initial treatments for toenail fungus at home?

There are many over-the-counter or home remedies that can help get rid of toenail fungus. Listed below are a few tried and true methods:

• Baking Soda — Baking soda soaks up moisture that may cause toenail fungus.
• Vinegar — Vinegar is a common household product used in cooking and some home cleaning solutions. While no clinical studies have been conducted, there is an abundance of anecdotal evidence to suggest that vinegar is an effective tool to help treat toenail fungus.
• Mouthwash — Similar to vinegar, there is no scientific evidence to support that mouthwash is effective in treating toenail fungus. It does, however, have antifungal properties.
• Garlic — Typically used for seasoning food, garlic may help treat toenail fungus as well. Though limited, there is some evidence to support this claim.
When should I see a doctor for toenail fungus?

If you feel like the situation has gotten out of control and you have not seen any progress with your symptoms after applying the home treatments, it's time to pay your doctor a visit.

In extreme cases, you might be experiencing these symptoms. If so, please visit your foot and ankle specialist immediately to care for and treat your toenail fungus. Look out for these symptoms:

• A swollen toe turns red with discoloration or becomes tender to the touch.
• Your toe feels hotter than the rest of your body.
• If the infected toe or the surrounding area of the toe is starting to secrete pus.
• Red streaks around the infected toe.
• If you develop a fever of 100.4º F or higher, then the infection is moving to the rest of your body.
• The infected nail spreads to the skin.
• Intolerable pain

Once you see your doctor and they have indeed diagnosed the fungal toenail infection, they can do a few things to alleviate the pain, and discomfort, and get rid of the infection.

Usually, oral prescriptions are the treatments and cures associated with the infection. Also, prescription anti-fungal nail polish can soothe your nails. The polish rids your nail of fungal properties. To clean everything up and keep your feet and nails protected, strength nail cream can also be applied directly to the area.

If the fungal infection is too serious, the doctor has to actually surgically remove the nail to apply the medication you need to the nail bed. However, this procedure will only be administered in extreme cases and is normally not how a doctor will try and deal with the infection. Laser treatments we offered are also very effective in treating infections.
 
If you or someone you know has toenail fungus, or suspect you might have it, come to Tustin Podiatry Clinic today! We have a team of professional and caring staff, so you know your feet are in the right hands! Contact our office today to get in touch with a specialist. To book an appointment, call us or visit us online! We serve patients from Tustin CA, Irvine CA, Garden Grove CA, Orange CA, Anaheim CA, Costa Mesa CA, and Lake Forest CA.