Tustin, CA Laser Fungal Nail Treatment
Nail fungus should not be taken lightly and does require treatment. At Tustin Podiatry, we provide treatment plans specific to our patients' needs. Call today or schedule an appointment online with a specialist. We serve patients from Irvine CA, Garden Grove CA, Orange CA, Anaheim CA, Costa Mesa CA and Lake Forest CA.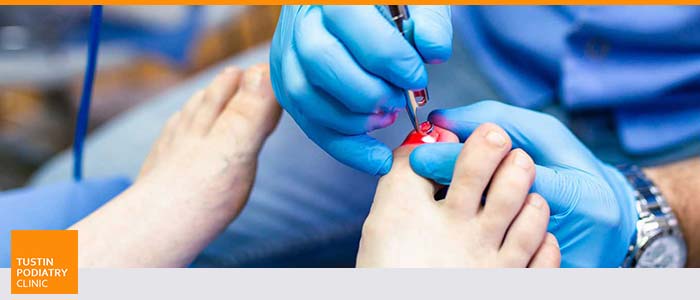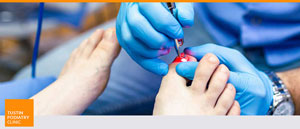 Table of Contents:
How can a podiatrist help with my nail fungus?
How much does laser treatment for toenail fungus cost?
What is the recovery for laser fungal removal?
How do I prepare for my appointment?

Toenail fungus is a common condition that causes a discoloration of the toenails, often accompanied by a foul smell. It often starts out mild partially under one nail, but when left untreated, it can worsen and envelop the entire nail and spread to other nails. It is often acquired at a nail salon from improperly sterilized equipment. Thankfully, podiatrists specialize in treating all ailments concerning the feet, and they can diagnose, treat and help to prevent any irregularities from occurring in the future, including nail fungus removal!
How can a podiatrist help with my nail fungus?


Including nail fungus, your local podiatrist can accurately diagnose and effectively treat an incredible array of problems that affect your feet. While many people think of nail fungus as a minor cosmetic issue or merely an inconvenience, it can indeed lead to serious health complications. If nail fungus is left untreated, it can lead to permanent nail damage and infections that spread to other parts of your body. It is best to visit your foot doctor sooner than later, especially if the following factors apply to you:

• You aren't sure of the diagnosis
• You have diabetes
• Self-care treatments aren't working
• You observe certain nail changes

How much does laser treatment for toenail fungus cost?


The cost for laser toenail fungus removal varies based on the severity and how many toes are being treated. Our fees are priced very competitively and will be discussed once a diagnosis has been made. However, although it is not always the case, it is normal for the price of one infected nail to cost the same amount as five. The reason for this is that we must treat each nail to properly ensure that the other toenails have not been infected, as well.

What is the recovery for laser fungal removal?


For the first laser appointment, it takes about 20 to 30 minutes. The following laser appointments are generally shorter — about 15 minutes — and typically spread about 1 month apart.

The great thing about laser toe nail fungus removal treatments is that there is no recovery time. Immediately after your appointment, you can return to your usual daily activities.

To prevent re-infection from your environment, topical antifungal oil for your daily use is typically provided while your healthy nail is growing. We will also review preventative care with you. For some patients, we have recommendations based upon the severity of the fungus and its chance for recurrence.

How do I prepare for my appointment?


In order to ensure the most success for your treatment, please make sure that your toenails are free of polishes and lacquers. It is also important to trim your toenails beforehand and wash them as well as possible. Although this is a relatively simple procedure, it is important to perform the proper preparations to ensure lasting results and a quick appointment time.

If you or someone you know has toenail fungus, we've got you covered! At Tustin Podiatry Clinic, our professionals can help you clear your nails of fungus and restore them to their former glory. We understand how frustrating toenail fungus can be, and also how troublesome it is! We are experienced in alleviating toenail fungus so you can focus on other parts of your health. To talk with an expert, contact our office today. Visit us online or give us a call to schedule an appointment at our clinic.