Foot Arthritis Treatment by Podiatrist in Tustin CA
At Tustin Podiatry Clinic, we help clients manage all types of arthritis with advice, diagnosis, and treatment. Visit Dr. Charles Baik so that we can help you get back on your feet again. Contact us today for more information or visit us online to book an appointment. We are conveniently located at 17400 Irvine Blvd. Suite H, Tustin, CA.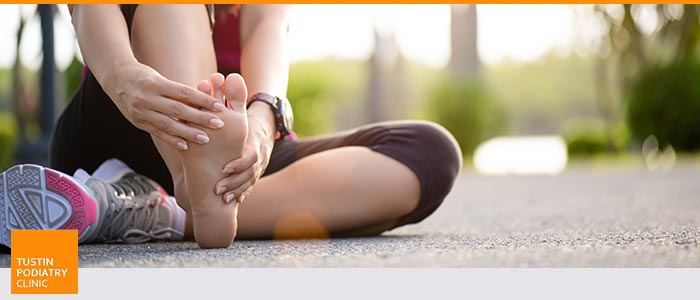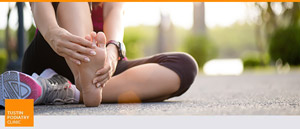 Table of Contents:
What is the most common arthritis found in feet?
What are the signs of arthritis in your feet?
What makes foot arthritis worse?
Can a podiatrist treat arthritis?
Arthritis most commonly occurs in the older population as joints are overused on a daily basis over a lifetime, but there are many cases of younger people developing the condition and experiencing limited mobility and ability to engage in activities. Arthritis in the foot can quickly start to affect a patient's quality of life as their ability to run, walk, and even stand starts to deteriorate, making it difficult to participate in sports and social events. If left untreated, arthritis can start to affect one's ability to go to work and sleep comfortably.
What is the most common arthritis found in feet?

The most common type of arthritis that occurs in the feet is osteoarthritis, often developing due to an injury such as a fracture or sprain in the foot, and sometimes just due to physiological mechanics such as having higher arches or flatter arches naturally. Osteoarthritis is also the most common type of arthritis to develop, affecting around 1 out of 6 people who are aged 50 or older. It is also commonly referred to as "wear and tear" arthritis as it is a degenerative condition that occurs through the overuse or use of damaged joints, slowly wearing away cartilage if left untreated.
What are the signs of arthritis in your feet?

The majority of the symptoms associated with osteoarthritis in the feet consist of various discomfort or pain in the affected areas including:
 
• Discomfort or significant pain when putting weight on the foot/feet
• Discomfort or pain when using or moving the affected area
• Discomfort, redness, and swelling both when the affected area is being used and resting
 
It is also common for those with osteoarthritis in the feet to hear and feel grinding or crunching when moving the affected joints as the cartilage continues to deteriorate. The earliest symptoms of arthritis in the feet include sensations of stiffening of the joint, as well as pain, swelling, and warmth. Eventually, many patients will be able to notice visible deformities in the affected areas through mucous-based cysts (sacs filled with fluid that appear as ridges, bumps, or dents on the affected areas) and bone spurs (the extra bone that grows along the joints when the damage becomes significant that lead to further pain and loss of joint functioning).
What makes foot arthritis worse?

There are several external and internal factors that can lead to flare-ups or worsening of symptoms for osteoarthritis, the most common triggers being overusing the joint, repetitive motions, or experiencing trauma to the joint. External factors that can make arthritis in the foot worsen include changes in weather, specifically colder weather, and changes in barometric pressure. Internal factors that lead to worsened foot arthritis symptoms include gaining weight as that applies increased strain on the joint, the development of bone spurs or infections, and undergoing emotional and physical stress. Many patients who have been diagnosed with osteoarthritis have been able to identify specific foods that will likely lead to flare-ups, such as red meat, dairy products, or foods that are high in sugars, fats, or sodium. There are quite a few daily activities and regularly consumed foods that are known for causing symptoms of arthritis to worsen, so it is recommended that patients avoid different triggers if they notice symptoms worsen due to any factors.
Can a podiatrist treat arthritis?

Podiatrists are physicians that specialize in the function and structure of the feet, making them qualified in treating patients who have developed arthritis in the feet and ankles. When visiting a podiatrist with symptoms of swelling, pain, or tenderness in a joint, they will be able to determine the cause of the symptoms, whether it is arthritis or another condition that is affecting the joints. Once the condition is diagnosed, treatment can commence to alleviate the symptoms and identify potential triggers that will lead to worsened symptoms. There are several different approaches available for treating osteoarthritis in the feet, so visiting a specialist such as a podiatrist as soon as possible once symptoms have occurred can ensure that patients are able to ease discomfort and pain and prevent the conditioning from developing further with a treatment that works for their condition and lifestyle.
 
Our podiatrists at Tustin Podiatry Clinic have all the expertise needed to provide you with high-quality podiatry treatment! We welcome you to call us or schedule an appointment through our website if you require callus removal treatment. We serve patients from Tustin CA, Irvine CA, Garden Grove CA, Orange CA, Anaheim CA, Costa Mesa CA, and Lake Forest CA.