Laser Fungal Nail Treatment in Tustin CA
Dr. Charles Baik, DPM offers laser fungal nail treatment near you at Tustin Podiatry Clinic. If you have any questions about laser fungal nail treatment please do not hesitate to contact our office today. Contact us today for more information or simply request an appointment online. Also, check our specials. We are conveniently located at 17400 Irvine Blvd Suite H Tustin, CA 92780.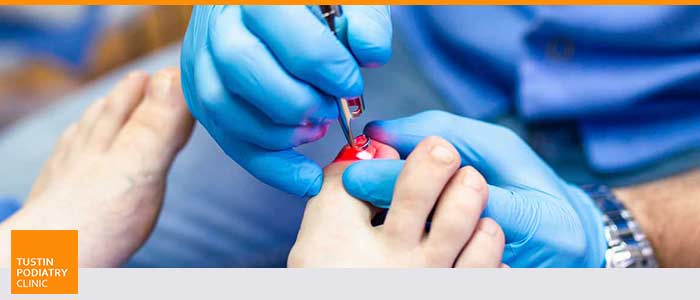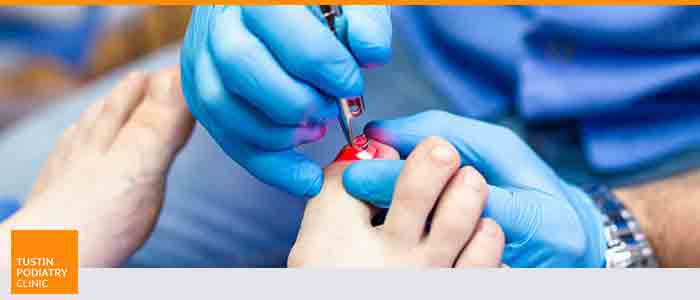 Table of Contents:
Why do I have nail fungus?
How do lasers treat nail fungus?
How long does laser treatment for nail fungus take?

Nail fungus can cause embarrassing symptoms that make it difficult to wear your favorite shoes. Many people suffer from nail fungus because they are too embarrassed to seek effective treatment. At Tustin Podiatry Clinic, we offer laser treatments that can effectively target and repair nails that have been damaged by a fungal infection. This simple technique will allow you to enjoy healthy nails and more attractive feet, so you can wear sandals in the summer without fear.
Why do I have nail fungus?


Nail fungus can be caused by a number of different fungi. Often a fungal nail infection will begin as a single yellow or white spot visible under the tip of your nail. When left untreated, fungal nail infections can penetrate more deeply into the nail and the nailbed, leading to the thickening of the nail and even a crumbling appearance at its edge. Fungal infections in your toenails are usually more of an aesthetic concern, however, many people do experience pain as the nails thicken as a result of the infection. Your nail fungus can affect multiple toes, leading to an unpleasant odor and build-up of debris underneath your nails that can be embarrassing and uncomfortable.

How do lasers treat nail fungus?


Until recently, topical ointments and oral medications were the only ways to treat fungal nail infections. While these treatments can certainly deliver results, treatments can be time consuming and take an extended period of time to work. Oral medications have also been shown to be linked with some serious side effects including heart problems and liver damage. At Tustin Podiatry Clinic, we are proud to offer FDA-approved laser treatments that can heal your fungal infections in your toenails, so you can enjoy an easier method for clearing of your symptoms than ever before. Laser devices emit targeted pulses of energy to heat the tissue it comes in contact with. By heating the toenails that have contracted a fungal infection, we are able to kill the microbes responsible for your symptoms. Lasers can penetrate tissue deep beneath the surface, allowing your doctor to target nail fungus at the source in the nailbed beneath the nail.

How long does laser treatment for nail fungus take?


Your laser treatments will be tailored to your needs based on the severity of your condition. A single treatment will take approximately half an hour to complete. However, some patients may require multiple sessions. Your podiatrist can help you decide how many treatments will be most effective for your unique case. It may take several months for you to experience totally clear nails. As part of your treatment, you may also undergo debridement, which will clear debris from under your nail and help you feel more comfortable. As your nails grow out, you will notice better looking nails free from fungus. This process can take anywhere from 6-12 months because toenails grow more slowly than fingernails, so some patience is required. The laser treatments we offer are safe, effective, and comfortable.

If you have a fungal nail infection you need effective treatment for, Tustin Podiatry Clinic in Tustin, CA can help. Our experienced foot doctors can provide you with precise diagnosis and effective laser treatments that will destroy the source of your fungal infection, so you can enjoy happier, healthier, better-looking feet. Call us today to schedule an appointment, so you can put your best foot forward with the help of a comprehensive laser nail fungus treatment plan. We serve patients from Tustin CA, Irvine CA, Garden Grove CA, Orange CA, Anaheim CA, Costa Mesa CA, and Lake Forest CA.