Podiatrist Near Santa Ana, CA
Tustin Podiatry Clinic Offers Services Near Santa Ana, CA. Our Experienced Podiatrist Specializes in Heel Pain Treatments, Laser Fungal Nail Treatments, Ingrown Toenail Treatments, Ankle Sprain Treatments and More. Please Give Us a Call at (714) 880-8054 or Request an Appointment Online.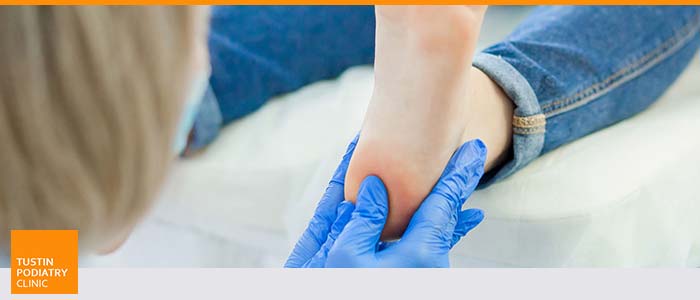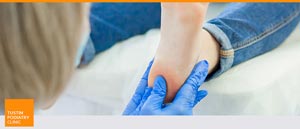 Often, Americans overlook their feet. Our feet transport our bodies daily, and do a great deal of work for the body. When our feet are unhealthy, our knees, hips, back, and other parts of our body suffer. This is why it's so important to have a quality podiatrist to keep your feet and ankles as healthy as they can be.
For a quality podiatrist near Santa Ana CA, come to Tustin Podiatry Clinic. We can provide a quick checkup if you have a slight issue with your feet, or if you have a chronic condition, we can offer ongoing support. Our certified podiatrist, Dr. Charles Baik, would be happy to meet and speak with you.
What can a podiatrist help me with?
Foot conditions are quite common in the US, but a podiatrist can treat these conditions, no problem. For example, we receive many patients with hammertoe, and we provide these patients with the pain and symptom relief they require. We also receive patients with calluses or corns, which we can easily remove at our clinic. For patients suffering from bunions, we can treat the condition before it becomes bursitis.
If you treat these conditions when you first notice them, you can prevent infection or the worsening of the condition. You can also stop the conditions right in their tracks!
Here at Tustin Podiatry Clinic, our team practices preventative care. This means we can suggest different lifestyle habits to help you avoid foot- and ankle-related complications in the future. We can be a part of your healthcare team just as your primary physician is!
Can a podiatrist help with chronic foot or ankle conditions?
Many podiatrists offer ongoing support for patients with chronic conditions. Our podiatrists here at Tustin Podiatry are able to provide this kind of support.
We can provide any diagnoses or treatments our patients require. For example, we can test for and treat gout, circulatory issues, and even Charcot foot. Often, patients with these conditions require ongoing, attentive care, which we can provide at our clinic. Patients with diabetes require attentive care to avoid potential complications relating to their feet, and we can also provide this at our clinic.
A podiatrist can be a vital member of your healthcare team, especially if you suffer from diabetes or another chronic condition.
What other services do you provide at Tustin Podiatric Clinic?
Our professionals can also offer rehabilitation for sports or gym-related injuries. We can provide patients with physical therapy to help them through their injuries so they can get back to their active lifestyles. We also offer therapeutic and stabilization techniques to help patients with shin splints, ankle sprains, or ankle arthritis. If you've been suffering from plantar fasciitis, we can definitely help you too.
Many of our patients have been suffering from issues with their nail health. Here at Tustin Podiatry, we can treat fungal nail infections, ingrown toenails, and other nail-related issues.
Where can I find a podiatrist near Santa Ana, CA?
Come to Tustin Podiatry Clinic to find a quality podiatrist near you! We're located at 17400 Irvine Blvd Suite H Tustin, CA 92780, and we're open during regular office hours. You can call us at (714) 880-8054 to make an appointment with our podiatrist, Dr. Baik. At Tustin Podiatry Clinic, we look forward to helping you get back to an active lifestyle!