Flat Feet Treatment Specialist in Tustin CA
Flat feet, also known as fallen arches, can cause a lot of problems and pain in your feet, knees, and hips if left untreated. If you need assistance with flat feet, visit Dr. Charles Baik at Tustin Podiatry Clinic so that we can help you get back on your feet again! Contact us today for more information or visit us online to book an appointment. We are conveniently located at 17400 Irvine Blvd. Suite H, Tustin, CA.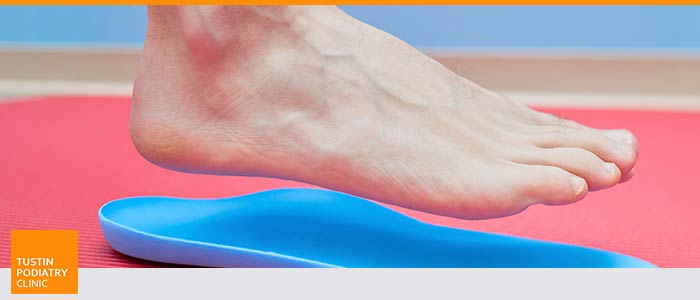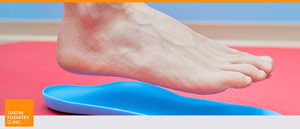 Table of Contents:
What are flat feet?
What are the types of flat feet?
What causes flat feet?
How do podiatrists manage or treat flat feet?
All babies are born with flat feet and do not develop arches until they are a few years old as their joints, bones, tendons, and ligaments are still fairly flexible as they are growing in that time. However, some children will either develop an arch a bit later than their peers or simply will never develop an arch at all, making their feet appear entirely flat against the ground. This visible lack of arch in the foot is commonly referred to as a flat foot.
What are flat feet?

Feet are considered to be flat feet when the arches are so shallow that the entire base of the foot presses down onto the ground when pressure is being placed onto the feet. This condition is also commonly referred to as "fallen feet". Our arches typically develop in childhood, but around 1 out of 5, children do not develop the arch even into adulthood. There is some degree of severity of flatness, but those with congenital flat feet will often develop pain or discomfort in their foot, specifically the arch or heel of the foot. It is common for those with flat feet to experience worsening pain with increased activity, and will often develop swelling around the ankle.
What are the types of flat feet?

There are two types of flat feet, rigid and flexible. Rigid flat feet are feet that have no arches regardless of if the person is standing or sitting (so whether there is weight put on the feet). Rigid flat feet most often become prevalent through the teenage years and will worsen with age. Symptoms include pain in the feet and difficulty with moving the feet up or down, and side to side. The difference between rigid flat feet and flexible flat feet is that flexible flat feet are flat when weight is being put on the feet (i.e. when the person is standing) but an arch is present if the foot is not weight bearing. Flexible flat feet are much more common than rigid flat feet and are even considered to be a variation of a normal foot as the joints and muscles still tend to function properly.
What causes flat feet?

Flat feet occur either when children never develop arches through their childhood and teenage years, or in those who develop an arch that collapses at some point. Never developing an arch can sometimes be tied to genes, but there are several conditions that develop later in life that can lead to fallen arches (which may also sometimes be genetic). Some conditions that can lead to a loss of arch in the foot later in life include:

• Rheumatoid arthritis
• Diabetes mellitus
• Down Syndrome
• Pregnancy
• Obesity
• High blood pressure
• Cerebral palsy
• An injury such as a breaking a bone or in the Achilles tendon
• Muscular dystrophy
• Hypertension
 
There is an increased risk of suffering from fallen arches as we age, but more often occurs in those with a family history of conditions that often lead to flat feet, those who are athletic and may incur more injuries over their lifetime, or those who are more prone to falling and becoming injured.
How do podiatrists manage or treat flat feet?

For those who are experiencing pain due to flat feet, there are several recommendations or courses for treatment available from podiatrists. Many podiatrists will suggest the use of arch supports in shoes to provide pain relief, options for which include orthotic devices, non-prescription arch supports, and sometimes arch supports that have been custom-designed to fit the contours of the feet. Depending on the severity of the case and experienced symptoms, some exercises and stretches may be recommended as well to ensure that the muscles and joints are all maintaining proper strength and are not being overused leading to further discomfort or pain down the road. Flat feet are typically a permanent condition, so there is not really a treatment to cure the lack of arch but there are many different means available to treat and manage symptoms to allow patients to maintain full mobility and limit the pain that is experienced. Our podiatrists at Tustin Podiatry Clinic have all the expertise needed to provide you with high-quality podiatry treatment! We welcome you to call us or schedule an appointment through our website if you require callus removal treatment. We serve patients from Tustin CA, Irvine CA, Garden Grove CA, Orange CA, Anaheim CA, Costa Mesa CA, and Lake Forest CA.