Foot and Ankle Doctor in Tustin, CA
Have You Been Searching for a Foot and Ankle Doctor in Tustin, CA? If So, Reach Out to Us Here at Tustin Podiatry Clinic. We Can Help in Heel Pain Treatment, Laser Fungal Nail Treatment, Ingrown Toenail Treatment, Ankle Sprain Treatment, and More. Call Us Today at (714) 880-8054.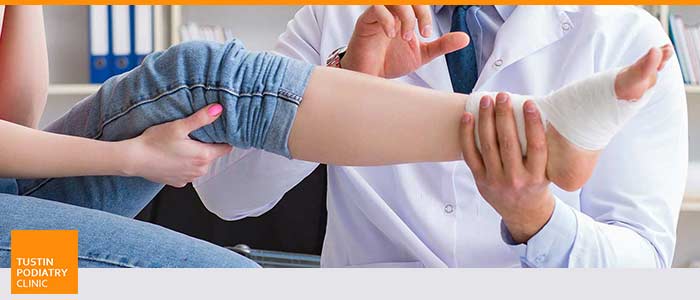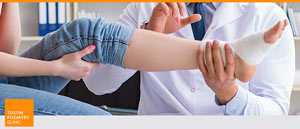 Our feet and ankles do a tremendous amount of work for our bodies. They carry us everywhere we go, and when they're compromised, the rest of our body can become compromised too. If you've been having any issues with your feet or ankles, then it's important to have them checked out right away so you can prevent any other complications. What you need is a proper foot and ankle doctor which you'll find right here at Tustin Podiatry Clinic.
What kind of doctor should I see for foot and ankle pain?
Foot and ankle doctors are known as podiatrists. They are among the most qualified professionals to help patients with foot and ankle pain, and can even help patients manage chronic conditions like ankle arthritis. With Tustin Podiatry Clinic, you'll absolutely be able to get this kind of support.
At our clinic, Dr. Charles Baik is our resident podiatrist. He is a board-certified podiatric surgeon with over a decade of experience helping patients just like you. You can have full confidence in his capabilities, just as his many other patients do!
What does a podiatrist do for your feet?
A podiatrist is a special kind of healthcare provider for foot and ankle health, specifically. A podiatrist is also a kind of preventative healthcare provider. For example, if you are suffering from foot or ankle pain, a podiatrist can identify the underlying cause of your pain, and then provide you with the support you need to prevent the condition from worsening or occurring again.
A podiatrist can also determine whether you are flat-footed, properly balanced, or if you have any potential complications at all. Once the professional has this information, he or she can suggest a number of lifestyle habits to help you avoid issues in the future.
These professionals are more than just one-time healthcare providers. They can become an essential part of your healthcare team, just as your primary care physician is!
What conditions do Podiatrists treat?
Sometimes foot and/or ankle pain is due to a common condition like hammertoe. A podiatrist can provide pain and symptom relief for these common conditions. A podiatrist can also remove calluses or corns, which can be the cause of pain for many patients. Additionally, bunions are a common problem for people, but a podiatrist is fully capable of treating the condition before it becomes bursitis.
Podiatrists can provide patients with sports injury rehabilitation, physical therapy for plantar fasciitis or arthritis, and many other services.
Sometimes foot or ankle pain is caused by an underlying chronic condition. A podiatrist can diagnose, treat, and help you manage chronic conditions such as gout, circulatory issues, or charcot foot. These patients require attentive podiatric care. Patients with diabetes also require this kind of care to prevent any complications with their feet. We are more than capable of helping with this here at Tustin Podiatry Clinic!
Where can I get a foot and ankle doctor in Tustin, CA?
You can find a true professional right here at Tustin Podiatry Clinic. We're located over at 17400 Irvine Blvd Suite H Tustin, CA 92780. Dr. Baik is fully qualified to treat you for any minor or chronic condition, and we hope you'll make him a part of your healthcare team! To book a simple consultation with the doctor, get in touch with us at our clinic. You can call us at (714) 880-8054.
We are looking forward to your visit with us here at Tustin Podiatry Clinic!