Top-Rated Podiatrist in Tustin, CA
Nearly 8 in 10 Americans report having foot discomfort. Foot pain can significantly lower the standard of life by limiting activities. Foot discomfort in people with diabetes may be an indication of another medical condition. Fortunately, there are several ways to treat foot discomfort and stop further issues. At the Tustin Podiatry Clinic, Dr. Charles Baik, DPM has extensive experience treating a range of foot issues and can assist in regaining comfort and functionality. Contact us today to learn more or visit us online to book an appointment. We are conveniently located at 17400 Irvine Blvd. Suite H, Tustin, CA.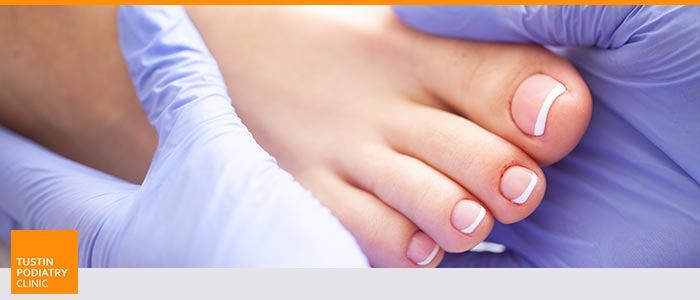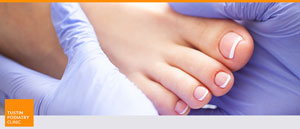 Table of Contents:
What will a podiatrist commonly treat?
What is the difference between a podiatrist and a chiropodist?
When should you see a podiatrist?
How to find a top podiatrist near me?
What will a podiatrist commonly treat?


Dr. Charles Baik can treat a multitude of conditions and symptoms. The term podiatrist refers to a medical professional who treats foot conditions. These conditions could be medical diagnoses, an infection, a disease, a chronic pain issue, diabetic foot pain, and much more. Dr. Charles Baik can treat the following symptoms related to the feet but are not limited to: corns, cysts, bone disorders, shortened tendons, arch problems, broken toes, ankles or feet, congenital foot deformities, tumors, ulcers, and much more.

Podiatrists are also known for diagnosing, treating, and also preventing of injuries or disorders within the feet. They also have the capabilities of making flexible casts that hold foot and ankle injuries like a fracture or a sprain to minimize movement of the area.

What is the difference between a podiatrist and a chiropodist?


A Podiatrist is known as a doctor of podiatric medicine and is trained to treat medical issues within the foot, ankle, and lower leg. They are trained to treat injuries and complications from ongoing health issues like diabetes, complex regional pain syndrome, gout, and much more. When it comes to the differences between a podiatrist and a chiropodist, there are no differences between the two terms. These two terms are used interchangeably and describe the same thing. A chiropodist and podiatrist treat the same area of the body and have the same scope of practice. In Ancient Greek terminology, the term chiro means hands, and pod means feet. The meaning of podiatrist comes from the roots of podiatry, which comes from pod, and Intros, which means physician.

When should you see a podiatrist?


A person should reach out to Dr. Charles Baik if they have persistent pain that is unable to be relieved. If you currently suffer from a medical condition such as diabetes, gout, or CPRS, having Dr. Charles Baik as part of your healthcare team would be extremely beneficial as they are known to be the experts of the lower leg, ankle, and feet. As well, if you suffer from a chronic condition, you should have regular check-ins with your podiatrist to help them monitor your condition, your symptoms, and to track how the treatment is working. Podiatrists are also extremely helpful in regard to the treatment of broken or fractured bones.

If you recently suffered from a broken ankle, foot, or toes, seeing Dr. Charles Baik can help you recover more quickly, and also prevent any further damage that might affect you in the near or far future. For someone who has never been diagnosed with a chronic condition that could interfere with the lower extremities, but starts experiencing any kind of foot, ankle, or lower leg issues, it is recommended that you consider seeing Dr. Charles Baik.

Due to the reason Dr. Charles Baik is able to diagnose and treat symptoms that may be new to you, they have the understanding and capabilities to work with you and offer treatment that could prevent a condition from becoming worse or preventing a future injury that could lead to life-altering problems. If you have noticed any new symptoms in your feet that you may have never realized could be a problem, reaching out to a podiatrist may be something to consider. 

How to find a top podiatrist near me?


Podiatrists can be found pretty much anywhere. These doctors are becoming increasingly more of a popular choice for individuals to go to instead of their regular family physicians. You can find a top podiatrist on the internet, through a friend, from a referral from a family doctor or emergency room physician, or even on social media.

Some things to consider when looking for a podiatrist are how many years of experience they have, what they currently specialize in, the type of medical condition you have and/or maybe suffering from, any references you may have received, and convenience. Always make sure that it is in your best interest to reach out to a podiatrist, and make sure they can be a convenience to your life.

If you are currently in search of a good podiatrist, reach out to our team at Tustin Podiatry Clinic. We work with multiple certified podiatrists that have a passion for helping individuals find the root cause of problems and provide one-on-one care that can help you get back to living your life like normal. We are here for all your needs and would love to have you visit our clinic for more information. We Serve Patients from Tustin CA, Irvine CA, Garden Grove CA, Orange CA, Anaheim CA, Costa Mesa CA, and Lake Forest CA.