Podiatry Clinic in Tustin, CA
Dr. Charles Baik, DPM is a podiatrist near Tustin, CA, who specializes in a wide range of foot and ankle problems, including nail disorders, heel disorders, and diabetic foot problems among others. Contact us for more information or schedule an appointment online! We are conveniently located at 17400 Irvine Blvd. Suite H, Tustin, CA.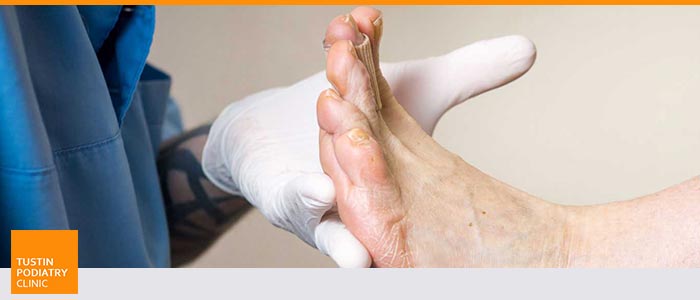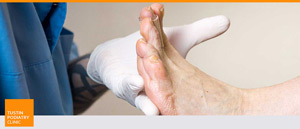 Table of Contents:
When should I see a podiatrist?
What should I expect when I visit a podiatrist at Tustin Podiatry Clinic?
What conditions do your podiatrists treat?

It isn't a good idea to patiently endure foot or ankle pain with gritted teeth. Since we are often on our feet, foot and ankle pain is not likely to get better without some kind of treatment or medical intervention. At Tustin Podiatry Clinic, our podiatrists have numerous resources at hand to properly evaluate, diagnose, and treat your foot and ankle issues so that you can get back on your feet again as soon as possible.
When should I see a podiatrist?


If you are experiencing any prolonged foot or ankle pain, you should see a podiatrist, even if you think the condition or injury is mild. Prolonged foot or ankle pain is never normal, and escalated foot pain can severely reduce your functional mobility. Symptoms that warrant a visit to the podiatrist include ingrown or discolored nails, rashes or discoloration on your skin, strong foot odor, swelling or redness, lumps, as well as more serious conditions such as arthritis or diabetes.

What should I expect when I visit a podiatrist at Tustin Podiatry Clinic?


Upon your arrival at Tustin Podiatry Clinic for an initial podiatry appointment, one of our friendly receptionists will assist you with the check-in process before asking you to wait for the podiatrist. When the podiatrist is ready to see you, they will take you to a private room will discuss your medical history, and any medications you are currently taking, and will examine and assess your condition or symptoms. The podiatrist will examine your feet, ankles, and legs while you are sitting and also while you are standing. Depending on what they find, they may refer you for diagnostic testing to help them determine an accurate diagnosis so that they can prescribe the proper treatment. Once a treatment regimen has been established by both you and the podiatrist, the treatment process will begin. This will vary according to what your condition is and the severity of your condition. You may require multiple treatment sessions with significant recovery time if your condition is severe enough or you might only need a single session before getting back to normal.

What conditions do your podiatrists treat?


Our podiatrists at Tustin Podiatry Clinic are able to treat a wide range of mild to severe foot and ankle issues, including:
Common issues such as ingrown fungal toenails, warts, bunions, calluses, ankle sprains, and hammer toes.

• Gout
• Diabetes
• Plantar fasciitis
• Arthritis

To treat these conditions, we have a variety of resources at hand! These include ArthrosurfaceHemiCAP® resurfacing system for arthritis; laser therapy for arthritis, tendonitis, plantar fasciitis, and other injuries; orthotics for flat feet, diabetes, and other foot and ankle issues; radial extracorporeal shockwave therapy for plantar fasciitis, tendonitis, and stress fractures; and prolotherapy for joint issues. We also provide sports therapy to help you recover from foot and ankle injuries so that you can return to physical activity as quickly as possible.

If you are suffering from foot and ankle pain and live in the Tustin area, our podiatrists at Tustin Podiatry Clinic would be more than happy to help relieve your pain! You can book an appointment with us on our website or you can reach us by phone. Tustin Podiatry Clinic is located at 17400 Irvine Blvd. Suite H, Tustin, CA. We serve patients from Tustin CA, Irvine CA, Garden Grove CA, Orange CA, Anaheim CA, Costa Mesa CA, and Lake Forest CA.

We are looking forward to helping you overcome your foot and ankle issues!