Foot Doctor Questions and Answers
At Tustin Podiatry Clinic, Dr. Charles Baik and his team of experienced podiatrist offer a wide range of services to help diagnose and treat foot and ankle problems, ingrown nails and fungal nail problems, diabetic foot treatment and more. Call us for more information or schedule an appointment online! We are conveniently located at 17400 Irvine Blvd. Suite H, Tustin, CA.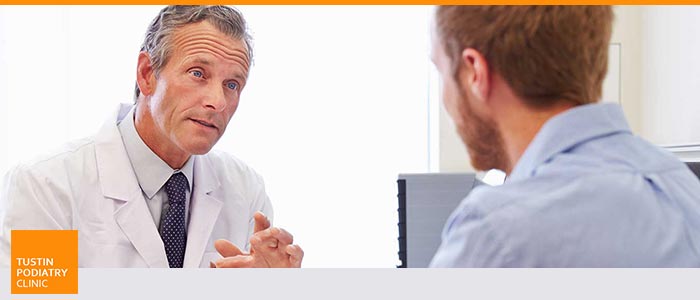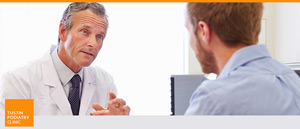 Table of Contents:
What types of problems can a foot doctor address?
Why are my feet in so much pain?
Are my shoes really that important?

Your feet are an integral part of your daily life, responsible for carrying you from place to place. When you experience chronic pain or other issues in your feet, it can slow you down in your daily life and make it incredibly difficult to complete necessary tasks. At Tustin Podiatry Clinic, you can find a foot doctor who understands how to best support your feet, so they can support the rest of you. Whether you are struggling with ingrown toenails or a serious issue that requires surgical intervention, the foot specialists at our practice in Tustin, CA can help you achieve healthy, comfortable feet that can get you everywhere you need to be.
What types of problems can a foot doctor address?


There are many podiatry issues that a foot doctor can diagnose and treat, so you can enjoy relief from discomfort. They can perform necessary, minimally invasive surgery for hammertoes, bunions, claw toes, foot fractures, and infections. Your foot doctor is your best resource for the treatment of calluses, corns, plantar fasciitis, ingrown nails, heel spurs, and cysts in your foot. Your foot doctor at Tustin Podiatry Clinic, can help you improve your walking comfort by providing you with customized orthotics and correction of walking issues. Our goal is to improve the health of your feet, so you can enjoy better health throughout your entire body.

Why are my feet in so much pain?


There are a wide range of biomechanical issues and medical problems that can cause chronic pain in the feet. Your foot doctor can perform an examination of your feet, legs, and ankles while you are both sitting and standing to evaluate any structural deformities or other problems that may be contributing to your discomfort. There are also other important medical conditions that can lead to circulation problems in the feet such as diabetes and heart disease. Undergoing appropriate diagnostic processes with an experienced podiatrist can help you better understand your feet and how to care for them, so you can enjoy walking and standing without pain.

Are my shoes really that important?


Wearing supportive and well-fitting shoes is essential to the health of your feet. Wearing ill-fitting shoes or high heels on a regular basis can lead to issues including hammertoes, ingrown nails, bunions, and spurs. Your foot doctor can provide you with insight into how your shoes should fit and what kinds of shoes are best suited to supporting your active lifestyle. Orthotic inserts can also help to make your shoes more comfortable and supportive. Especially for women who often wear high heels or pointed toe shoes for work, inserts can make the day much more comfortable and protect the health of your feet. It can be difficult to know what's best for your feet, but our podiatrists can help you make informed decisions that will provide you with proper alignment and happier feet and legs.

If you live in the Tustin area and are looking for an exceptional foot doctor you can rely on, contact Tustin Podiatry Clinic today to schedule an appointment online. Whether you have a specific problem you would like to address or are just looking for support for your overall foot health, we can help you enjoy strutting your stuff all day long. We serve patients from Tustin CA, Irvine CA, Garden Grove CA, Orange CA, Anaheim CA, Costa Mesa CA, and Lake Forest CA.