Diabetic Foot Doctor in Tustin, CA
Unfortunately, diabetes can lead to a variety of foot issues that frequently result in significant pain and suffering. Diabetic foot issues are characterized by tingling, discomfort, and numbness in the feet. Visit Dr. Charles Baik DPM at Tustin Podiatry Clinic to make sure your feet stay healthy. Take control of your health and learn about the common signs and symptoms of diabetic foot that can cause major foot issues. For more information, contact us or schedule an appointment online. We are conveniently located at 17400 Irvine Blvd. Suite H, Tustin, CA.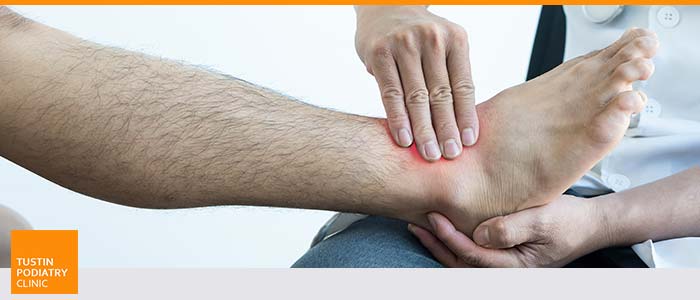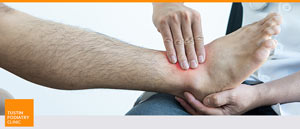 Table of Contents:
What is a diabetic foot?
What conditions require diabetic foot care?
How are diabetic foot conditions treated?
How often should a diabetic see a podiatrist?
What is a diabetic foot?


The disease diabetes is caused by high blood glucose levels, or blood sugar levels. You get glucose from the food, and it provides energy to your body's cells. Insulin helps glucose enter your cells.
 
Type 1 diabetes is caused by a lack of insulin in the body. Type 2 diabetes occurs when your body cannot produce or use insulin properly. When you don't have enough insulin, glucose cannot enter your cells as quickly as it should. High blood sugar levels are caused by glucose buildup in the blood.
 
Diabetes patients often experience foot problems. The nerves and blood vessels in the feet can be damaged by high blood sugar over time. You may experience numbness, tingling, pain, or a loss of feeling in your feet due to nerve damage, called diabetic neuropathy.
 
Without feeling pain, you may not detect cuts, blisters, and ulcers on your feet. Those wounds are susceptible to infection. Because of the damaged blood vessels in your feet, the infection may not heal well.
 
Gangrene can result from an infection and poor blood flow. As a result, muscles, skin, and other tissues begin to die. Amputation may be necessary if you have gangrene or a foot ulcer that does not improve with treatment. The surgery involves cutting off a toe, foot, or part of your leg that has been damaged. This is a potentially life-saving surgery done to prevent infection from spreading.

What conditions require diabetic foot care?


Individuals with diabetes are susceptible to the same foot injuries and conditions as others. However, what may be a common foot problem that is no cause for concern for an individual without diabetes, those with diabetes are more prone to serious complications, infection, and even amputation in serious cases. 
 
Conditions such as athlete's foot, fungal infection of the nails, corns and calluses, bunions, blisters, dry skin, hammertoes, ingrown toenails, and plantar warts are all common foot conditions that expose those with diabetes to greater potential risk. Diabetic ulcers are also a common concern among those with diabetes affecting 10% of those with diabetes.

How are diabetic foot conditions treated?


Diabetic foot care is available as a preventative measure and in the treatment of diabetic foot conditions. For patients living with diabetes adhering to your doctor's prescribed diet, exercise, and medication regime as well as any other recommended lifestyle changes are the best preventative measure available. Diabetic patients should also closely monitor their foot health, keeping in mind that the potential numbness of the feet associated with diabetic patients can often result in neglecting a foot injury as well as further complications.
 
Diabetic foot conditions are preventable when a patient sees a podiatrist in order to educate themselves on self-care and to receive checkups and diabetic foot health monitoring. The risk of amputation can be decreased up to 75% by a team of diabetic foot ulcer specialists. The team is often composed of specialists in infectious disease, podiatry, wound care, and vascular specialists. Proper education and foot care regimens can prevent up to 50% of diabetic foot ulcer cases.
 
Diabetic problems can result in serious complications of the feet that if left unchecked can result in necessary amputation to stop infections from spreading. The best method is to receive care early and regularly to facilitate preventative measures and prompt treatment as needed.

How often should a diabetic see a podiatrist?


All diabetic patients may greatly benefit from an initial consultation with a podiatrist to educate themselves on the best measures of preventative care and caution they may take at home. When a diabetic patient has no neurologic defects (resulting in tingling, burning, or numbness), and generally has good circulation they may see a podiatrist on an annual basis.
 
Patients with numbness of the feet or with poor circulation are at higher risk and should see a podiatrist every 2-3 months for exams and treatment. The team of medical professionals at Tustin Podiatry Clinic provides top-of-the-line treatment to help diabetic patients maintain their foot health. We Serve Patients from Tustin CA, Irvine CA, Garden Grove CA, Orange CA, Anaheim CA, Costa Mesa CA, and Lake Forest CA.