5 Questions to Ask About Amnion Injections Treatment
Tustin Podiatry Clinic offers amnion injections treatment for plantar fasciitis, achilles tendonitis, joint tendonitis & ligament damage to reduce the pain and disability. Call us for best amnion injections therapy costs in Tustin or simply schedule an appointment online! We are conveniently located at 17400 Irvine Blvd Suite H Tustin, CA 92780.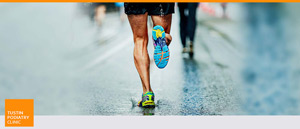 Table of Contents:
What is AmnioFix?
Is AmnioFix right for me?
How do I prepare for a treatment?
How do I care for my treatment site?
What happens after my treatment?
We now have regenerative therapy alternative that can reduce the pain and disability associated with a variety of inflammatory and degenerative conditions, including:
• Plantar Fasciitis
• Achilles Tendonitis
• Joint Tendonitis
• Ligament Damage
Specifically, amnion injections has been shown to:
• Reduce Inflammation and associated pain and disability
• Improve Pain and Disability
• Restore Range of Motion
• Manage Scar Tissue Formation
What is AmnioFix?


AmnioFix is a human amniotic membrane allograft. AmnioFix contains natural factors, called growth factors, to modulate inflammation, reduce scar tissue formation, and enhance healing.

Is AmnioFix right for me?


You and your doctor may consider AmnioFix an option if:

• You have been diagnosed with an injury resulting in inflammation.
• Conservative treatment such as anti-inflammatories, physical therapy, and bracing have not provided symptomatic relief of inflammation.
• You want a non-steroidal option or have reached your limit of steroid injections.

How do I prepare for a treatment?


You will be scheduled for an evaluation and consultation to determine if AmnioFix is a viable treatment option for you. The entire AmnioFix treatment process is very short and is generally performed on an outpatient basis.

How do I care for my treatment site?


The treatment site might appear red and be tender to the touch. You may apply ice and elevate as needed. Initially, the procedure may cause some localized soreness and discomfort; this may last 2-3 days. If you have questions about your treatment, please consult your doctor.

What happens after my treatment?


Your physician may prescribe some rehabilitation exercises or direct you to a rehabilitation facility. For AmnioFix to work optimally, it is important that you follow the doctor directed post-treatment care.

We serve patients from Tustin CA, Irvine CA, Garden Grove CA, Orange CA, Anaheim CA, Costa Mesa CA, and Lake Forest CA.